Revolution Gold®, Melaleuca
Description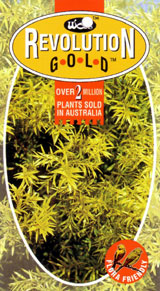 Revolution Gold® is a tall dense shrub with rich golden foliage.
Plant Useage
Revolution Gold® can be used as a colour contrasted screening shrub, windbreaks or as a feature specimen in gardens and parklands. This attractive native is fauna friendly.
Growing Conditions
Revolution Gold® prefers an open sunny position in a moist well drained soil. Revolution Gold® is not so tolerant of cold temperatures or frost. The colour fades to a pale lemon, but is quickly restored to its full glory with the onset of warmer Spring and Summer temperatures.
Plant Care
Requires little attention. Keep trimmed to maintain shape and desired height and to encourage new growth. Revolution Gold®will grow to a height of 3-4m and a width of 1.5-2m. Mulching is beneficial.