Honey Gem, Grevillea
Description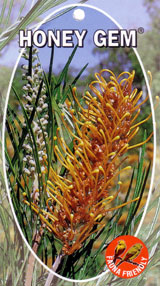 Honey Gem is a medium growing shrub, growing to a height of 3m and width of 2m. It bears honey golden, fauna attracting bracts throughout the year. The foliage is fine and fern-like. Honey Gem is a startling plant as it grows and matures in your garden.
Plant Useage
Honey Gem is excellent for gardens, commercial street planting and parks. It is also an ideal choice for a bird lovers garden as honeyeaters and parrots will flock to its flowers. Flowers and foliage are also suitable for floral arrangements.
Growing Conditions
Plant in a sunny position with well drained soil. This plant prefers to be one the dry side as it is susceptible to root disease if the soil becomes saturated for long periods. Honey Gem will grow well along the coastal regions from central Qld to the NSW-VIC border and from Perth north to Broome.
Plant Care
Prune back by one-third after flowering. Light fertilising with a fertiliser high in Nitrogen in Spring and mid-summer is certainly necessary, mulching however with lawn clippings and leaves would probably mean that you wouldn't need to fertilise once the plant is established. Watering only during dry periods is necessary. Most times of the year the amount of rainfall is sufficient for it.