Pink Malay®, Ixora
Description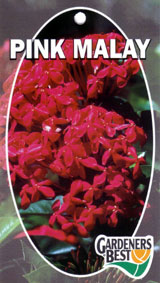 Pink Malay® is a compact small shrub which bears large bright pink flower heads contrasted against dark green shiny leaves.
Plant Useage
Pink Malay® can be used for borders or mass planted as a low hedge. If you have a lightly shaded corner that needs brightening up, Pink Malay®Uis the pefect plant as the large bright pink blooms are very striking and Pink Malay® prefers a semi shaded position.
Growing Conditions
Pink Malay®will not tolerate frost - ensure protection. In cooler climates this plant will thrive in a sunroom or protected patio area. Pink Malay® grows to approximately 1.5m high.
Plant Care
Garden plants should be fertilized with a complete garden fertilizer in spring. Tub grown plants should be fed with a slow release fertilizer applied to the mix in spring and autumn. A light prune after flowering will maintain shape.