Gold Fire®, Ixora
Description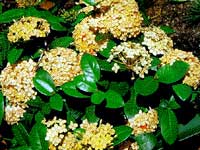 Gold Fire® is a hardy and versatile small shrub. It bears large golden flowers for most of the year. The foliage is fleshy dark green with new bronze tips. Gold Fire® is a perfect mate to its counterpart Coral Fire® which bears vibrant coral/tangerine coloured flowers.
Plant Useage
Gold Fire® is best planted en masse, either as a low growing hedge or just for a mass of colour where needed. Gold Fire® calso makes a particularly nice potted plant specimen or as an underplanting around trees where it thrives and looks spectacular. These plants can be used extensively in either a formal or native garden.
Growing Conditions
Gold Fire® grows best in full sun to partial sun but does tolerate lower light conditions. It is very hardy and does not require too much attention. This shrub will grow to around 1m high x 1m wide if left untrimmed and does form a nice rounded plant. In cooler parts, this plant will thrive in a sheltered position on a patio.
Plant Care
Gold Fire® will grow in most soil types as long as drainage is adequate. Water plant only as required and be careful not to overwater. Mulching is recommended to conserve water.

Fertilise once a year in late spring to promote new plant growth.

Pruning encourages a compact bushy shrub. A fairly light trim is recommended mainly to encourage multi branching but a hard trim can be done if plant is overgrown. Apply fertilizer after trimming for best results.

Gold Fire® is not prone to disease as long as good drainage is maintained. If problems do occur treat with a general fungicide.