Purple Sensationpbr, Cordyline
Description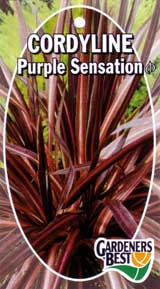 Purple Sensationpbr is a strappy plant which grows to a height of 2m and a width of 1.5m. It has attractive maroon/purple foliage with pinkish- red mid stripes and will brighten up any dull spot in the garden.
Plant Useage
As a foliage plant, Purple Sensationpbr has all year round appeal and is excellent for companion planting with Dianella Golden Streak®.
Growing Conditions
Suited to most soil types, even dry soils, Purple Sensationpbr can be grown either in full sun or part shade. It is an excellent plant for coastal areas, is frost tolerant and will perform well in pots on the patio, around your pool or in courtyard gardens.
Plant Care
Requires minimal care.