Razzleberri®, Loropetalum
Description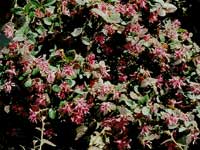 Razzleberri® is a small/medium shrub which bears masses of brilliant dark pink feather-like flowers several times a year. Its striking plum coloured foliage has an arching habit. Razzleberri® is evergreen with leaves, oblong in shape are about twice the size of a thumbnail. Razzleberri® flowers with spider like fringed flowers in a brilliant pleasant pink colour. Several times a year some flowers appear but the main flowering is in Springtime when the bush is completely covered in flowers. The leaves of Razzleberri®appear as copper pink over the bush and mature to copper green over a period of weeks. Growth is constant but not rampant. We can highly recommend Razzleberri®as a no nonsense easy care plant for todays gardens.
Plant Useage
Razzleberri® can be grown in full sun or partial shade. It is a very tolerant plant to temperature fluctuations. Loropetalum chinense in its cream form is an old favourite of our grandmothers' gardens. It was and is grown all over Australia and New Zealand from the gardens of the tropics in north Queensland to the cool climates of Hobart in Tasmania and Wellington in New Zealand. As a garden shrub or as a plant for larger garden tubs it is an ideal choice. Cut foliage lasts well in floral arrangements but the flowers fal after a few days.
Growing Conditions
Razzleberri® will grow to 1.5 metres in height and width over a period of five years. Pruning after the Spring flowering can keep it to smaller dimensions if required. Razzleberri® is very adaptable to most conditions and can be grown in full sun or part shade. The leaves of Razzleberri® appear as copper pink over the bush and mature to copper green over a period of weeks.
Plant Care
It is a tidy grower needing very little pruning to keep good shape and form. Pruning can be carried out at anytime of the year to maintain a required shape. Mulching is beneficial to conserve moisture. Fertilize in spring after flowering. .A good deep watering in dry periods is needed particularly whilst the plant is establishing.