Honey Wonderpbr, Grevillea
Description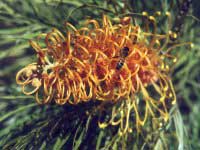 Honey Wonderpbr is a large shrub which grows to a height of approximately 3 metres and 1.5 metres wide. It bears honey coloured bracts in winter/spring which attract honey-eaters and parrots.
Plant Useage
Honey Wonderpbr is excellent for gardens, commercial street planting and parks. Honey Wonderpbris an ideal choice for a bird lovers garden as honeyeaters and parrots will flock ot its flowers. Honey Wonderpbr is a startling plant as it grows and matures in your garden. Like its parent Honey Gem it grows to about 2 metres in height with a spread of 1.5 metres and is very bushy and compact if pruned annually. Honey Wonderpbrois outstanding for its foliage, form and colour. Flowers and foliage are also suitable for floral arrangements.
Growing Conditions
Plant in a sunny position with well drained soil. This plant prefers to be on the dry side as it is susceptible to root disease if the soil becomes saturated for long periods. Honey Wonderpbr will grow well along the coastal regions from central QLD to the NSW-VIC border and from Perth north to Broome.
Plant Care
A sturdy stake and a light pruning every six weeks during the first year is certainly beneficial. This allows the stem and root to strengthen up well, otherwise the top can get a bit heavy in these first few months. With this early initial care this problem is not apparent.

Light fertilising with a fertiliser high in Nitrogen in spring and mid summer is certainly necessary, mulching however with lawn clippings and leaves would probably mean that you wouldn't need to fertilise once the plant is established. Watering only during dry periods is necessary. Most times of the year the amount of rainfall is sufficient for it.

It is beneficial to prune Honey Wonderpbrhard in early Spring. This will promote fresh new growth and shape the bush.