Cream de Mint®, Pittosporum
Description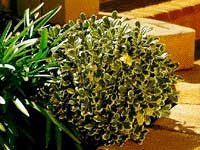 Cream de Mint® is a shapely compact, tidy shrub with nice tight multi-stemmed foliage. Cream de Mint® is a form of Pittosporum tobira. It is related to Miss Muffett®, but is however a little slower growing with smaller and finer leaves. It has a beautifully rounded form and attractive variegated foliage.
Plant Useage
Cream de Mint® makes an excellent feature or edging plant. Planted en masse about 1 metre apart a great effect of mounds of plants to give a really formal effect can be achieved. A companion planting of Nandina Gulf Stream behind the rows of Cream de Mint® looks stunning and requires very little up-keep. Cream de Mint® is ideal for around pools as they do not shed leaves outside of the plant which as we all know make work when they blow into the pool.
Growing Conditions
Cream de Mint® grows more compact when grown in full sun but also looks handsome in partly shaded gardens. Cream de Mint® will grow in most areas of Australia except for the very dry and the very cold areas. Relatively trouble-free plant that with good drainage will grow in all areas and tolerate light frost.
Plant Care
Lightly shear Cream de Mint® at any time of the year to maintain its tufted form. Fertilise in Spring and early Autumn.