Golden Yul-Lopbr, Grevillea
Description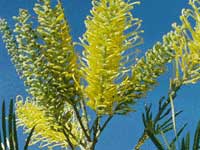 Golden Yul-lopbr is a large shrub which bears vibrant yellow bracts in winter/spring which attract honey-eaters and parrots. Golden Yul-lopbr is a startling plant as it grows and matures in your garden. Golden Yul-lopbr is an ideal choice for a bird lovers garden as honeyeaters and parrots will flock to its flowers.
Plant Useage
Flowers all year round and is an easy to grow plant. Golden Yul-lopbris an upright spreading shrub and will reach a height of 3m anda width of 2m. Flowers and foliage last well in floral arrangements.
Growing Conditions
Golden Yul-lopbr is suited to most free draining garden soils and prefers full sun.
Plant Care
Heavy pruning in October after the main flowering period is beneficial. At this time feed with a slow release fertiliser, low in phosphorus. Water well after pruning and during dry periods. Lightly prune after flowering to shape and maintain ideal height.