Victoriapbr, Asplenium
Description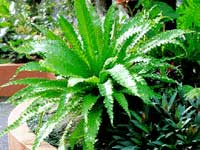 Victoriapbr is a classic plant for use indoors, where the elegance of this plant would be difficult to better.
Plant Useage
Grow Victoriapbr in a squat patio pot for a dramatic feature plant in shaded patio and courtyard areas. For indoor use the best position is near windows but not in direct sunlight. Water only once a week indoors. Plants we know of have been in homes for nearly twelve months. Outdoors, Victoriapbr grows well in tubs and garden beds, in shaded to semi-shaded areas.
Growing Conditions
Victoriapbr will grow to a height and width of 1.5 metres and has all the hardy positive features of the Japanese Bird's Nest Fern, Asplenium antiquum but has a dramatic eye catching look that is absolutely unique.
Plant Care
Mulch well. Do not over-water, as this plant is hardy and responds better to less care than over-pampering. It must be conditioned to grow in stronger light if planting in semi-shaded areas. Fertilize at quarter the recommended strength in Spring and Summer.