Scarlet Pimpernelpbr, Dipladenia
Description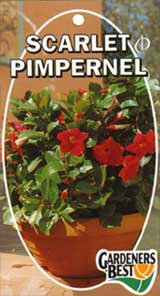 Scarlet Pimpernelpbr is darker and richer in colour to give us a contrast with darker leaves and darker flowers. The flowering and growing habit of is similar to its relations.

Planted with Merlins Magicpbr and My Fair Ladypbr the contrast in colour is spectacular. if grown on a light trellis it will scramble to about 2.5 metres as a very light cover. Scarlet Pimpernel can be easily kept as a small shrub by just picking off the odd runner that appears from time to time. Like Merlins Magicpbr and My Fair Ladypbr we will find used in many situations where people want a show of flowers with a minimum of hassle.a small shrub which grows to an approximate height of 1 metre and width of 50cm. It flowers for most of the year in warm climates, bearing masses of deep red flowers with yellow throats.
Plant Useage
As with other Dipladenias, Scarlet Pimpernelpbr will do well as a tub plant in sunny positions on patios, balconies or around pools. As a hanging basket it is without peer. In warmer districts of Australia heavy flowering is continuous from September till June with some flowers even in July and August. In cooler areas protection from frost is essential. In these areas it flowers from November to March.
Growing Conditions
Plant in well drained sunny position or well lit open indoor situation.
Plant Care
A good open soil or potting mix is necessary. Keep Moist but do not ever stand in water. Tip prune lightly to keep the plant compact. Fertilize in early Spring and Summer for best results.