\
Curly Ben®, Ficus
Description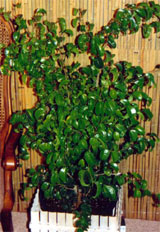 Curly Ben® is a very different and unusual Ficus with unique curly foliage.
Plant Useage
Curly Ben® makes an ideal plant for interior landscaping, either in a home or commercial situation. Curly Ben® is ideal as a tub specimen on the patio and can be pruned into a range of topiary shapes adding interest to a dull spot.

It is recommended that all Ficus be planted away from any areas where invasive roots may be of concern.
Growing Conditions
With adequate water and fertiliser the plant may be kept in the same container for many years. Curly Ben® will tolerate low light levels and colder temperature better than most other Ficus.

When grown in a tub Curly Ben® will reach a height of about 2m in approx. 5 years, but if grown in the open ground will eventually attain a height of up to 10m. Obviously this is only suitable for the very large or acreage gardens.
Plant Care
In cooler climates, protect from frost by growing in a sheltered area or on the patio or in a courtyard. Trim or prune to the shape required.