Cascading Beauty, Columnea
Description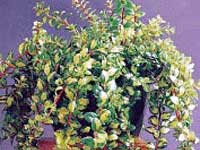 Cascading Beauty is a magnificent plant grown primarily for its foliage colour. The leaves of green and gold are highlighted by red stems which are very beautiful and unusual. Large maroon lipstick shape flowers cover the stem of the plant In Spring and Summer.
Plant Useage
Cascading Beauty is ideal for hanging baskets as the vine-like plant has many stems and trails, hence the name Cascading Beauty. Planted into a large container and placed on a pedestal or stand the trails of colour make an eye-catching display. In shady areas you can also use the plant to trail over a wall, or maybe in a rockery where the trails can cascade over the rocks.
Growing Conditions
Protect from frost by growing in a sheltered position. This can be in areas of the garden protected by the canopy of other plants or on the patio. The plant likes a shady position with filtered light. Inside in a sunroom the plant will thrive given there is adequate ventilation. The plant is best suited to 50% shade whcih will encourage the vibrant stem and leaf colours. The darker the growing conditions the paler the colours will be.
Plant Care
If repotting ensure you use a good quality potting mix which will provide adequate drainage. Fertilise twice per year with a slow release fertiliser. Once in Spring and again in early Autumn. Generally these plants are relatively frost and disease free when grown in the right light conditions.