Cherry Ripe®, Allamanda
Description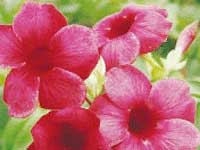 Cherry Ripe® will bring a splash of colour to the garden with its large self-supporting bush bearing masses of bright dark cherry coloured trumpet flowers.

Allamandas are flamboyant shrubs and woody vines for tropical and sub-tropical gardens. Depending on the growing conditions, some flowers will be a mass of solid colour whilst others will fade to give a striped or marbled effect.
Plant Useage
In well prepared, free draining garden beds it will grow with little care required. As a garden shrub Cherry Ripe® grows upright but needs some support of the branches from below.

As an espaliered plant on a fence or trellis, Cherry Ripe® is superb. Grown on a pillar with strong supports Cherry Ripe® is spectacular.

Cherry Ripe® is an excellent specimen in large decorator pots on the patio, balcony or around the pool.
Growing Conditions
Cherry Ripe® requires full sun to very light shade. Best grown in warm climates. Allamandas are frost tender. In areas where occasional frosts occur shelter from cold in Winter is essential. Brief exposure to temperatures as low as -5°C will be tolerated on established plants.
Plant Care
All Allamandas are gross feeders so are best grown with garden mulch added on a regular basis to the area around the plant.

Pruning should occur annually. In all areas pruning of your plants should take place in late Winter. Pruning can be very hard at this time so long as your plants are kept moist.

Fertilise in Spring and Summer for best results.