Leptospermum - Aussie Blossom Range - The Australian Cherry Blossom
Description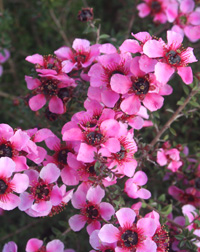 The Aussie Blossom Range is an easy care shrub for suburban gardens. Varieties in this range are: Alicia Rosepbr (rose coloured flowers), Emily Naopbr (pink coloured flowers), Joypbr (dusty pink flowers), Martinpbr (dusty white flowers), Naokapbr (pink with ruby red centre), Stephen Rosepbr (white with pink centre)
Plant Useage
Masses of stunning flowers cover the bush for 8-10 weeks in late winter and spring. Mass plant to create a screen or hedge. Flowers can be cut and used in floral arrangements but are not long lived, 3-4 days is usual.
Growing Conditions
Plant in a well drained sunny position. Keep plant moist before and after planting. Dig hole 3 times width of container. Set plant with root ball slightly above soil level. Loosen soil in hole. Mulch well.
Plant Care
Once established, a yearly pruning after flowering is beneficial. Cut the larger branches back to around 30cm from the base. Fertilise with a balanced plant food and renew the mulch. Water well in dry periods.