Southern Stars, Jasmine
Description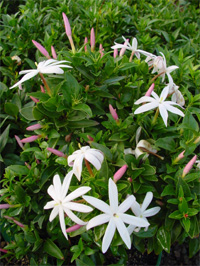 Southern Stars is well suited for Australian gardens and is easy to grow. Flowers are quite large and very fragrant for a Jasmine, white with a pink blush.
Plant Useage
Planted as a hedging there would be minimal work required to keep Southern Stars looking good. Southern Stars can be easily espaliered against a fence or trellis.
Growing Conditions
Grown in sunny and semi-shaded garden beds it will grow to 1.5m in most situations.
Plant Care
As is the case with all new planting, Southern Stars will require attention until it is established, this means keeping the garden bed moist until the roots spread into the surrounding area. After preparing the garden bed well with added compost, mulch around the base with 60mm to 80mm to conserve the moisture. This will help keep the soil cooler around the feeder roots which are often near the surface.

Some trendrils will appear from time to time and can be removed easily. These would be the shoots you would encourage if you were to train Southern Stars as an espalier. A dressing of complete fertilizer in Spring and again in late Summer would be beneficial.