Little Lemon Scentspbr, Leptospermum
Description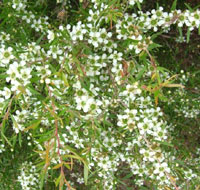 Little Lemon Scentspbr is a graceful weeping, evergreen, Australian native. It has a spectacular display of snow-white flowers in Spring and the foliage has a delightful fresh lemon scent when crushed.
Plant Useage
The compact habit of Little Lemon Scentspbr is far smaller growing and compact than its parent, Leptospermum petersonii (Lemon-Scented Tea Tree). It is an ideal specimen shrub for today's gardens and an excellent landscape plant.
Growing Conditions
It may be pruned and kept to any height. Little Lemon Scentspbr is very adaptable, grows well in a range of soil conditions, tolerates extended wet or dry period and light frosts. Ideal for coastal regions.
Plant Care
Little Lemon Scentspbr will grow to a height of 1.5 to 2 metres and 1.5 metres in width