Little Redpbr, Melaleuca
Description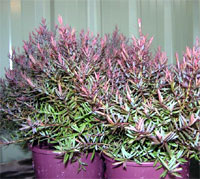 Little Red is a dwarf, compact shrub, that has highly perfumed foliage. The soft foliage on Little Redpbr produces showy flushes of spectacular purple/red new growth from April to October.
Plant Useage
Little Redpbr is ideal for rockeries, large tubs, garden beds, or mass plant for a dwarf, compact feature hedge.
Growing Conditions
Little Redpbr will grow well in a range of soil conditions. Tolerates dry, wet and poor soils. Drought tolerant. Will also withstand light frosts.This is a good plant for suburban Melbourne but once you get up into the mountains, valleys and hills then this is where the plant will suffer from frost.
Plant Care
Little Redpbr will grow to 1 metre in height x 1 metre in width. Pruning is not necessary.