Quicksilver - Kalanchoe
Description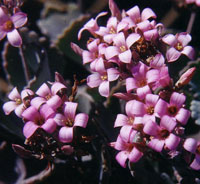 Quicksilver is a very showy plant which is ideal for floral bedding display. Kalanchoes are low, compact growers and because of their hardiness, have a multitude of uses around the garden.
Plant Useage
Plant into borders and garden beds as edging plants, around the base of trees or posts, or as a rockery plant.

Pots & Tubs: Quicksilver is an ideal patio plant, around swimming pools or taken indoors while in flower as interior decoration. Use several plants in large containers.

Hanging Baskets: These will look good in baskets on a verandah or along the front of a pergola.
Growing Conditions
Quicksilver will grow to a height of 80cm and cover an area of 80cm.
Plant Care
Quicksilver requires little maintenance. It does not need regular pruning as it will grow in a compact manner. An application of controlled release fertiliser should be made in October, this should be sufficient for a full seasons growth. Do not overwater.

Quicksilver will brighten up your garden or patio.