Coastal Series - Coastal Sunset pbr - Greville
Description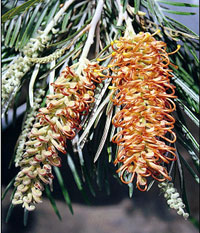 Coastal Sunsetpbr is a fast growing medium shrub with deeply divided dark green foliage. This Queensland bred grevillea blooms for most of the year bearing masses of bright orange coloured flowers which attracts a wide range of honey eating birds.
Plant Useage
Coastal Sunsetpbr is ideal for suburban gardens of today where space is limited. Mass plant to create a screen or hedge. Companion plant with other Grevilleas in this range - Coastal Twilight pbrand Coastal Dawnpbr for an outstanding colour display. Flowers and foliage last well in floral arrangements.
Growing Conditions
Coastal Sunsetpbr will tolerate most soil conditions and benefit from a fertilizer high in nitrogen in Spring and mid summer. Do not overwater as Grevilleas prefer dryness.
Plant Care
Prune the bush regularly to promote fresh new growth and maintain desired shape. Cultivate soil before planting. Dig hole twich the width of container. Place the plant in hole so he soil level of the plant is the same as the surrounding soil. Fill hole firmly and water well, even if soil is moist.

An easy care native plant for the gardens of the 21st century.