Sheena's Jungle Goldpbr
Description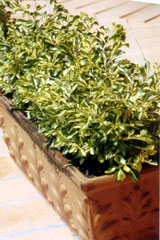 Sheena's Jungle Goldpbr is a new addition to the well known Sheena's® family of Durantas. The striking green and gold foliage is dense and compact. Sheena's Jungle Goldpbr gives an unusual effect planted as a specimen or in a hedge. The leaves and foliage are quite different. Planted in shade the leaves show more golden variegation.
Plant Useage
Currently there are 'five' selections in the Sheena's family. They are excellent for all commercial landscapes, roadside plantings and in home gardens. Makes ideal screens, hedges or specimen plants. Plant together with other members of the Sheena's® family (Sheena's Gold (gold foliage), Sheena's Limeglowpbr (lime/green leaves) Sheena's Greenpbr (dark green foliage), Sheena's Minigoldpbr (dwarf gold).
Growing Conditions
In sun or part shade, Sheena's Jungle Goldpbr will grow in most soil types. In shade, the colour is green and cream with larger leaves, a truly eye-catching display.
Plant Care
Once established your Sheena's will withstand dry periods and will grow even in poorer soils as long as the drainage is good. Naturally they will grow better in fertile soils that do not dry out too much. Mulching to conserve moisture is beneficial. Pruning can be done at any time of the year. If for any reason it is necesssary to move your Sheena's it is best to prune hard at the time of moving. Prune to maintain desired shape. Once established watering is kept to a minimum through mulching.